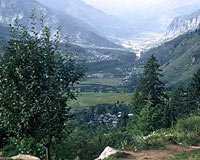 Location:
Kullu District, Himachal Pradesh
Altitude:
2,050 m
Best time to Visit:
Sept- Nov & March-June
Summer Temperature:
25º C (maximum), 10º C (minimum)
Winter Temperature:
10º C (maximum), 0º C or less (minimum)
Annual Rainfall:
320 cm
Manali, with its quixotic beauty and salubrious climate, is a preferred holidaying destination and is loved by one and all. Tucked away in the foothills of the Himalayas, this enchanting hill station boasts of a landscape that casts magical spells on onlookers. Circuitous streets, girdled with pines and deodars, take you to the lap of this little hill town, where tranquility rests amidst bustling and colorful markets. Add to it, some adrenaline-boosting adventure and water sports, and you have the perfect reason why Manali should be included in your travel itinerary to the Himalayas. Besides, what make Manali come up with so many tourism delights are its bracing climatic conditions. Check out this article for more information on the weather and climate of Manali.
Summer
Summers in Manali are very cool and pleasant and last from May to June. Because of its high altitude (2,050 m), the hill resort escapes the atrocities of summer heat, to a large extent. Unlike the sultry plains below, the summer temperature here is very favorable. The maximum temperature during the day occasionally touches 25 deg C. During the night, the temperature hovers somewhere around 10 deg C. Summers in Manali remains ideal for enjoying sports like trekking and mountaineering.
Winter
As Manali is located near to the snowline, winters remain extremely cold here. However, during these spine-chilling winter months (December, January and February), the place attains heights of its hoary beauty. The snowline comes down and dresses Manali in snowfall and makes the place ideal for skiing. The maximum temperature touches around 10 deg C during daytime. Nights are freezing, with temperature often dipping down to sub zero levels. However, extreme winter months are time for rendezvous with bonfires and fireplace naps.
Monsoon
Monsoon begins in July and lasts until August and the place sees heavy spells of rain during this time. The annual rainfall is recorded at 320cm. Due to incessant rainfall; the place becomes prone to landslides that often lead to various road obstructions. Therefore, a visit to Manali during monsoons is better avoided. Springtime, beginning in March and lasting through April, brings lot of flowers and butterflies and poses a delightful picture. The best time to go to Manali is during May and October, but one can visit it during winters too. April to June & September to December is the ideal period for making a trip to the place.