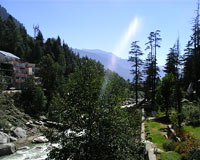 With a landscape hemmed with hypnotic views of snowcapped peaks, flower-carpeted valleys and forested slopes, the hill station of Manali invites countless day trippers round the year. Nestled in the Himalayas, at a height of 2,050 m, this picturesque hilltop town is a delight for whoever appreciates the magnificence and wealth of nature. The Beas River, flowing with its pellucid water and mellifluous notes, rambles its way through the heart of the town and adds to its rutted beauty.
Manali boasts of equally enticing vegetation. Its snaking streets are shaded with thickets of deodar and pine trees, heaving fields and blossoming fruit orchards. Apart from being an overwhelmingly beautiful countryside idyll, what entails the popularity of the Indian town is its proximity to the snowline. During winters, it is cloaked in snow and reaches the apogee of its beauty. Travelers from across the globe visit it and indulge in games like skiing. For those truly daring at heart, it also offers scope for a variety of water and adventurous sports.
Manali literally means the "Home of Manu". Manu is a mythological character, who is believed to be the sole survivor when the world was flooded and destroyed. According to legends, Manu came to Manali and recreated human life. Thus, the place is considered holy by many Hindus and the Hindu shrines here are held with the same arcane awe and reverence as the other pilgrimage sites in India. Apart from temples, the Buddhist monasteries or "Gompas" here are also popular amongst the visitors.
Another thing that highlights Manali and ensures to make your visit to the place worthwhile is "shopping". "The Mall" of Manali is lined with shops that sell various traditional Tibetan, Himachali and Kashmiri handicrafts. You will also get a variety of Chinese clothes and shoes here. Tibetan bric-a-bracs like prayer wheels, amulets, masks, musical instruments and jewelry are a few items that you would love to take home. Apart from the Mall, another good shopping place here is the "New Shopping Centre" Market.
Piping delicacies and luscious Oriental cuisines of Manali is yet another reason to visit the place, as far as gourmands and food connoisseurs are concerned. You can relish in some local delicacies and authentic Thai and Tibetan food here. Take a trip to the Club House in Old Manali during Saturdays, to delight in some delectable local cuisines. Those with an insatiable sweet tooth should check out the local bakeries and ice-cream parlors to see the varieties their shelves hold. For vacationers, Manali is absolutely quintessential and as exciting as a hill station can be.