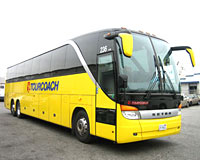 The celebrated hill station of Manali is a platter of many tourism delights. With its soaring snow-capped mountains, gleaming waters of the Beas and its green-cloaked groves of pine and deodar trees, the hill station offers an ultimate vacationing experience for travelers. To top it all, the multitude of adventure and water sports available there makes the place a favorite getaway for tourists looking forward to dispelling city blues. Chiming birdsongs, cool breezes, bewitching environs, delectable cuisines, colorful bazaars, heady feel and a pulsating heart - this is what Manali is all about. If you are wondering how to reach the place, just go through this article. It will tell you everything about traveling to Manali.
By Air
The nearest airport is Bhuntar, located approximately 50 km from Manali and 10 Km from Kulu town. The airport is quite small, but has regular flights of Jagson Airways and Air Deccan that connect it to Delhi, via Shimla. Tourists willing to travel by air can disembark at the Bhuntar airport and take buses, taxis and private cars for reaching the hill resort.
By Road
Being a popular tourist destination, Manali has well-connected roads that easily link it to places like Delhi (570 km), Chandigarh (320 km), Ambala (370 km) and Shimla (260 km). Himachal Tourism shuttles regular bus service from places like Shimla, Chandigarh and Delhi. Private tour operators also provide deluxe/ non-deluxe bus services and car-services for getting to Manali.
By Rail
The closest narrow gauge railway station is located at Jogindernagar, approximately 135 km away. On the other hand, nearest broad gauge railhead is Chandigarh (310 km). The best option to reach Manali by train is to undertake a broad gauge train journey to Chandigarh and take an overnight bus (about 10 hours) to Manali, or travel to Kalka and take the toy train from there to reach Shimla. From Shimla, one can reach Manali by bus (about 8 hrs).